Description
Pico is the Portuguese word for Peak.
The Pico Competition Boot with its beautiful lines coupled with its engineered design will enable you to ride at the peak of your powers. 
 Fonte Verde is a range of beautifully crafted Riding Boots made in Portugal using the finest European leathers.
Riders love the fit and comfort of the Pico Competition Boot.
Patent leather detailing
Opti® Spiral Zipper
Premium European Calf Leather
Contoured competition cut top – anti-gape design
Engineered Footbed
Stretch panel for a snug fit
Hand crafted in Portugal
We believe that riding boots should be comfortable!
The Woof Wear designers have created the perfect inner sole which combines the two key criteria of a riding boot – performance and all-day comfort.
The five different foams have been carefully selected with differing densities and are ergonomically positioned to secure the foot and strategically cushion the heel and ball of the foot.
The Fonte Verde riding experience will change your view of riding boots forever.
The Smart Zone Inner sole combines 5 different density foams to provide stability and unparalleled levels of comfort in a riding boot collection.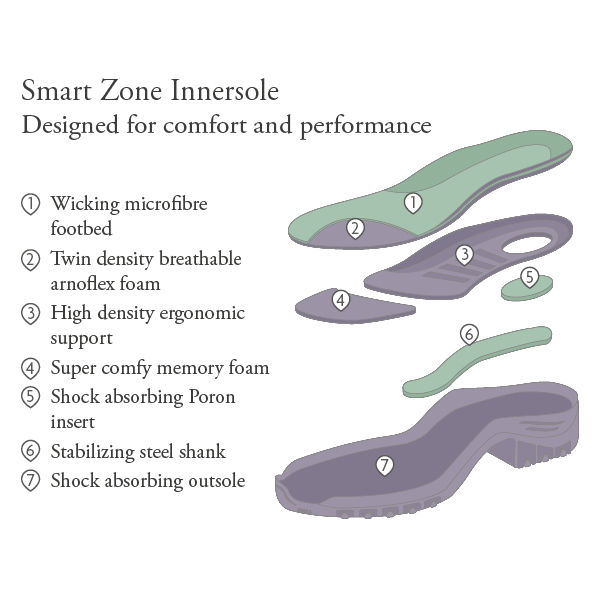 How to care for your Fonte Verde Boots
It is important that you take good care of your Fonte Verde boots to keep them looking beautiful and enhance their lifespan. To do this, please follow these instructions and your boots will love you for it!
Always allow your boots to dry naturally – avoid using artificial heat sources as these will dry out and damage the leather.
To clean, wipe away any dirt and dust etc with a slightly damp cloth or sponge. Pay particular attention to the seams where dirt may build up.
Once they are dry, apply good quality leather cleaner and conditioners to keep the leather soft and supple. Don't use any other chemicals as they may damage the leather.
If required, you can apply specialist leather waterproofing chemicals. These will help maintain the water repellent properties of the leather.
In order to keep your boots looking elegant and beautiful, ensure you store them with the zips done up and the supplied boot trees in place. This will keep their shapely form and prevent any damage to the leather by the upper collapsing.
How to care for the Zips
The zips of your Fonte Verde boots are a very important part of their construction – here's how to keep them in top condition.
Always pull the zip down to the bottom before putting your foot in or out.
Never force the zip as this may damage it.
Keep the zip clean from debris such as sand, dirt and grit – any excess dirt etc can be cleaned off using water and a small brush – an old toothbrush is ideal.
Always store the boots with the boot trees in place as this will prevent excess pressure on the zip.
Always store the boots with the zips done up with the tab locked into position and pointing down.
Payment & Security
Your payment information is processed securely. We do not store credit card details nor have access to your credit card information.